College of Arts and Sciences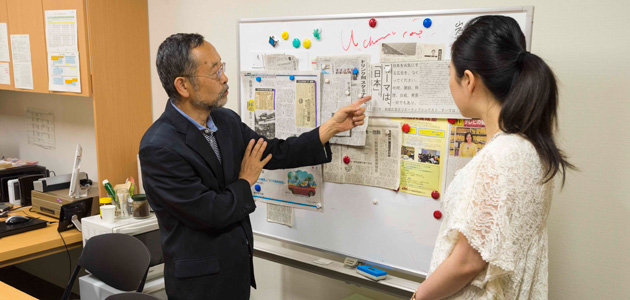 J. F. Oberlin University's College of Arts and Sciences offers a liberal arts curriculum that is based on global standards. It has 33 major fields in the humanities, the social sciences, the natural sciences, and in interdisciplinary studies. Students are free to study the subjects they wish as independent learners. Classes are small, and many courses are organized to encourage active student participation or experiential learning.

The study of liberal arts, precisely because it is not limited to a single field, gives students a breadth and richness of knowledge that they will be able to use in their daily lives. Wide-ranging encounters with the traditions of scholarship and the arts that are humankind's legacy imbue students with the joy of living. Specialized study grounded in a liberal arts education facilitates students' career developments and their ability to become contributing members of society.

*The name of the college changed in April 2012 from "College of Liberal Arts" to "College of Arts and Sciences".
Major Programs
| | | |
| --- | --- | --- |
| English Linguistics and Literature | Chinese Language and Culture | Japanese Language and Literature |
| Japanese Language Education | Linguistics | Communications |
| Contemporary and World Literature | Christianity | Religion |
| Philosophy | Ethics | Cultural Anthropology |
| History | American Studies | Asian Studies |
| Japanese Studies | International Relations | International Cooperation |
| Sociology | International Economy | Business Economics |
| Policy Studies | Media Studies (Journalism) | Museum Studies |
| Psychology | Education (Teacher Training) | Mathematics |
| Physics | Chemistry | Biology |
| Earth Sciences | Information Science | Environmental Studies |