Campuses
Campus facilities and the surrounding area
The College of Global Communication is housed in a building known as PFC (Planet Fuchinobe Campus), which is very near Fuchinobe Station on the JR Yokohama Line and is connected to the station by a pedestrian bridge. The location provides easy access to transportation and to J. F. Oberlin University's dormitory, Fuchinobe International House, just four minutes away on foot. The surrounding area includes banks, clinics, and a local shopping street. Immediately next to the station is a bus stop from where there is free bus service to J. F. Oberlin University's main Machida Campus, an eight-minute ride away.

Below is an overview of facilities which Global Communication students regularly use.
Entrance hall and lounge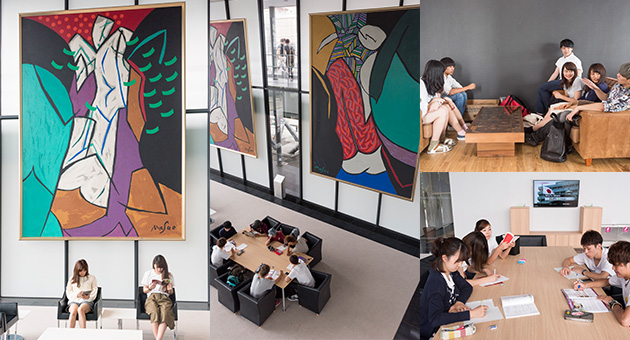 This big open space has tables, chairs, and a large-screen television. Students can use this space freely. Exhibitions and concerts are also held here from time to time.

Group discussion room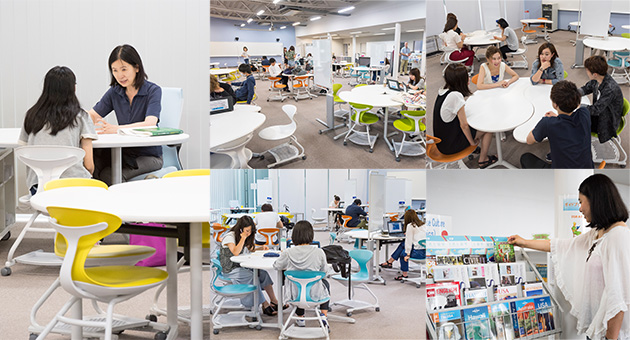 Students come here to study, read, and exchange ideas and opinions. Laptops and books can be checked out, and Internet access is available. In addition, one or more professors are usually on hand, and students can consult them about coursework or discuss current issues.

Classrooms
Most College of Global Communication classes are taught in classrooms on the third, fourth, and fifth floors of PFC. Bright and spacious, these well-equipped classrooms offer an excellent learning environment.
Outdoor garden area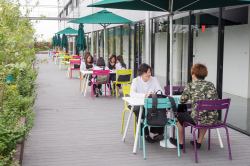 Along the corridor on the fourth floor, there is an outdoor garden area with tables and chairs. It is popular with students and is a great place to bring lunch.
Prism Café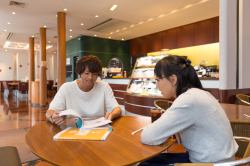 Located on the first floor, Prism Café serves light meals, desserts, and drinks at reasonable prices. Students can often be found here with a book in one hand and a fork in the other, but everything is also available to take out.