Three members of J. F. Oberlin University's Ekiden team gave standout performances at the 98th invitational meet of the Inter-University Athletic Union of Kanto, held from Thursday, May 23, to Sunday, May 26, at Gion Stadium in Sagamihara. Ledama Kisaisa and Daniel Kayiok won a combined total of three events, and Kaisei Ichiba took seventh place in the 800 meter race.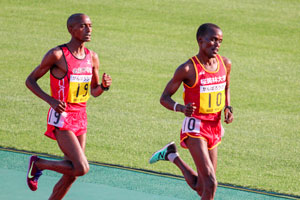 On the 23rd, Kisaisa led from start to finish but was followed closely by a runner from Musashino Gakuin University. Cheered on by a large crowd, the two finished in a virtual dead heat, but Kisaisa held on to secure a narrow victory. He had already won the 10,000 meters in the past two years' meets, usually running alone from about mid-way through the race, but this time he showed everybody that his outwardly calm demeanor hides a fierce competitive spirit.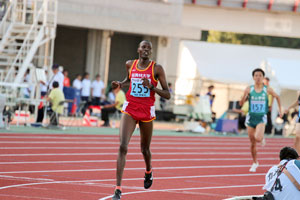 On the 24th, Kayiok took control early in the 1,500 meter race, opening up a big lead and maintaining it right to the finish line. Less than two months after arriving in Japan, he set a new meet record with his time of 3:45.32.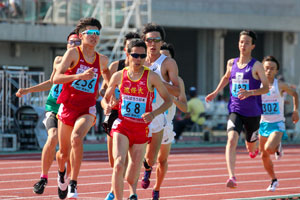 No Japanese competitor from J. F. Oberlin had ever reached the final of an event at this meet, but Kaisei Ichiba put an end to that drought on May 25. Having comfortably won his preliminary heat of the 800 meter race, in the afternoon of the same day he recorded a personal best time in the semifinals to cruise into the final, which was held on the following day. Starting in an inside lane on the 26th, he had difficulty in positioning himself and ultimately wasn't able to finish among the top three, but he's only a second-year student, and there are already high expectations for his continued growth in the 800 meters over the coming two years.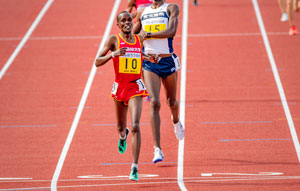 Also on the 26th was the final of the 5,000 meters. Kisaisa and Kayiok were both among the leaders, setting a blistering pace for the race. With three laps to go, Kisaisa made his move, and nobody had a chance of catching him. With his finishing time of 13:44.57, he scored his second victory of the meet for the third year in a row, qualifying him to compete in the same two events in September's All-Japan Inter-University Athletic Union meet. Last year he won both events at the national meet, and hopes are high for another double victory this year. Kayiok finished in fourth place at Sunday's meet.
Results:

800 meters
Kaisei Ichiba (2nd year, College of Health and Welfare)—1 minute 51.85 seconds (personal best)

1,500 meters
Daniel Kayiok (1st year, College of Global Communication)—3 minutes 45.32 seconds (meet record)

5,000 meters
Ledama Kisaisa (4th year, College of Global Communication)—13 minutes 44.57 seconds
Daniel Kayiok (1st year, College of Global Communication)—13 minutes 53.28 seconds

10,000 meters
Ledama Kisaisa (4th year, College of Global Communication) 28 minutes 21.63 seconds

All three students qualified for the national meet, to be held in September in Gifu.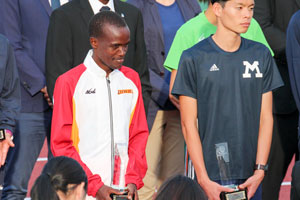 At the closing ceremony, Kisaisa added another award to his collection: the 2018 World Breakthrough prize. His meet record of 27 minutes 43.52 seconds in the 10,000 meters at last November's Hachioji Long Distance meet ranked as the 16th-best time worldwide for the year, earning him this special recognition from the Inter-University Athletic Union of Kanto. J. F. Oberlin's Ekiden team coach, Stefan Mayaka, also was commended for his coaching accomplishment.