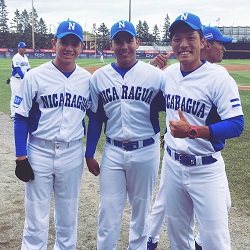 Shota Abe, a 2014 graduate of J. F. Oberlin University's College of Health and Welfare, went to Nicaragua in October last year with the Japan Overseas Cooperation Volunteers, a part of the Japan International Cooperation Agency, or JICA. His work involves promoting baseball in Nicaragua, and it led to his serving as the head coach for that country's team when they competed in the 28th WBSC Under-18 World Cup, held over the first eleven days of September in Thunder Bay, Canada.

Mr. Abe was a member of the baseball team during his university days and wanted to become a coach. He also wanted, in his words, "to get to know the baseballs of the world." With those goals in mind, he applied to the JOCV program. In addition to organizing baseball classes in elementary schools, he helps with the national baseball team and the Under-18 team, which led to his being asked to coach the Under-18 team.

The team finished tenth out of twelve teams, but Mr. Abe commented, "Many of the players had never competed at an international level before, and I think it was a great experience for them. After every day's game, I set aside some time for them to reflect on the game and its outcome. It must have been hard for them to look back on so many losses, but I could honestly see them growing day by day as players."

Nicaragua has four professional baseball teams, and baseball is popular, but the country's economy isn't strong, and many people don't have enough money for baseball equipment. The staff of Japan's Under-18 team, meeting with Mr. Abe and hearing about the situation in Nicaragua, kindly donated 200 baseballs to his team.

Mr. Abe is not the only link between J. F. Oberlin University and JICA's baseball promotion efforts: since 2016, the university has sent members of its baseball team to Costa Rica each year for one month to help teach baseball skills.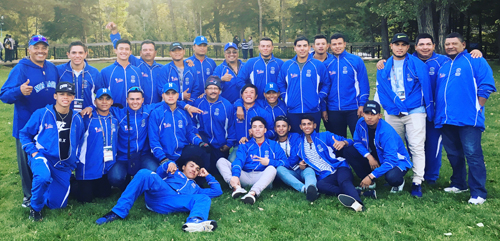 For more information, please contact J. F. Oberlin University's Office of Public Affairs at 042-797-9772.